Current location - test subject¶
Android
Apple iPhone / iPad (iOS)
Apple iOS Simulator
Apple TV (tvOS)
Apple tvOS Simulator
Browsers
HbbTV / Freeview Play
LG webOS
PlayStation 4/5
Samsung Tizen
VIDAA
Vizio SmartCast
Xbox (One, Series X/S)
Other Smart TVs and STBs - HTML apps
Current location test subject represents the current URL address of the application.
---
Usage¶
With the current location test subject you can make assertions against the URL of the current application page.
In Test Editor: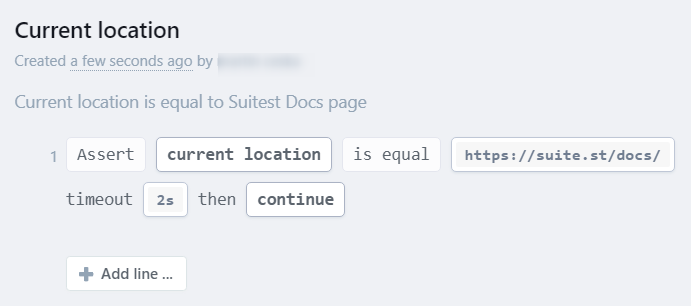 In the Suitest JavaScript API use the location subject:
await suitest.assert.location().equals('https://suite.st/');

If you use Suitestify, your app will run under a random URL during the test. However, the assertions on Current Location are still made on the original URL.