What can Suitest do for me?¶
Suitest can help you organize and automate your testing process and device inventory. You can use it for your end-to-end testing, for operating TVs in a remote office, for accessing devices shared by others, for automating some of your device maintenance tasks or for hunting down a nasty device-specific bug.
You can also benefit from Suitest public device lab and use Suitest-managed devices for live testing, test authoring and automated test executions.
Need some help? Contact our support team.
---
Why test automation?¶
Because testing software by hand nowadays is not at all an easy task. More so when it comes to TV applications where you need to cope with the inconsistencies between devices and also because it is comforting to know exactly which part of the app has been tested and where.
In a manual testing process, the main pain point is obviously the repetition. Repetition is boring and bored people tend to lose concentration which leads to more mistakes. On the other hand doing software test automation usually involves a certain amount of programming skills. Suitest gives you the power of test automation in a slick attractive interface packed with visual tools for creating effective test automation without writing a single line of code.
So how does it work then?¶
Basically Suitest helps you record your interaction with the app and add assertions in order to check the apps behavior. Speaking in technical terms, this recording is actually an end-to-end test. With Suitest you can replay this test as many times as you want, on as many devices as you want. So every time your application changes Suitest can execute the entire test suite and report the results. Consequently, if you have a good test coverage Suitest will ultimately help you to effortlessly answer the million dollar question:
Will my app run correctly on all of my target devices?
You will definitely appreciate the power of Suitest if you have ever been in any of the following situations:
You'd like to test your app on many devices quickly.

You'd like to be able to operate a device in remote facility.

You'd like to rent a particular remote device for short-term or repeated testing.

You are porting to another platform or device and need a retest quickly.

You make frequent updates to your app and you need to make sure, that the update will not break anything.
Suitest makes handling any of the above ridiculously easy and saves you a lot of time, effort and resources. Due to Suitest being developed with non-technical people in mind, even your manager will be able to use it and marvel at it.
Where to go next?
If you need any help please do not hesitate to contact us.
Suitest Remote app

The Suitest Remote mobile app allows you to control and manage your Suitest devices right from the palm of your hand. Download it for iOS and Android, then use your regular Suitest credentials to login.
What's new in Suitest?¶
From January 2020, all Suitest improvements and news are announced through Canny.io with notifications directly inside Suitest web application.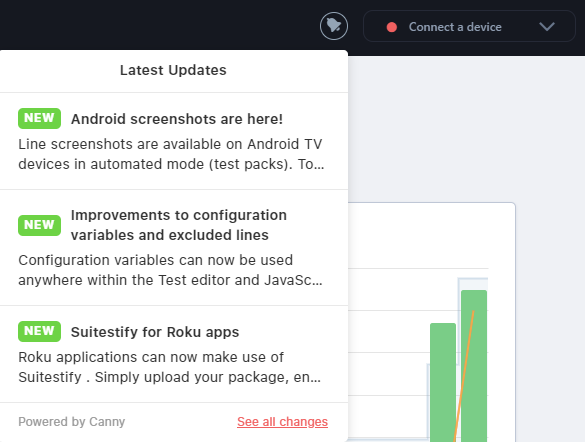 Missing a feature?¶
Each Suitest user can create a feature request at Canny.io.