Adding PlayStation 5 console to Suitest¶
Suitest supports a PlayStation 5 TestKit or DevKit. After setting up your PlayStation 5 console you will be able to run automated tests on HTML based applications (WebMAF and Media SDK).
---
PlayStation 5 devices can be controlled only by a SuitestDrive running on MS Windows operating system.
In order to use SuitestDrive, you need to pair it with your Suitest account first.
Prerequisites¶
PlayStation 5 TestKit or DevKit
PlayStation developer / partner account credentials.
Windows 10 computer with SuitestDrive downloaded and paired.
Prepare the Windows 10 computer¶
On the Windows 10 computer that is running SuitestDrive, please do the following:
Download the PlayStation SDK Manager.
Install the Target Manager Server. It should be installed in the default location on C: drive, if this is not possible please see the troubleshooting section.
Prepare your PlayStation 5¶
You will need to prepare your PlayStation 5 for testing:
Make sure the console has a wired Ethernet connection (should be the on same network as the Windows 10 computer running SuitestDrive).
Switch the console into Assist Mode - Debug Settings / Boot Parameters / Release Check Mode.
Enable automatic log in - Settings / Users and Accounts / Login Settings / Log In to PS5 Automatically.
Add the PlayStation 5 to Suitest¶
Open the Add device wizard then select Add physical device, then choose PlayStation 5 from the platform list and press Next.
On the Enter PlayStation details screen, do the following:
Select the SuitestDrive that will be controlling the console.
Discover all available devices or input the local device IP manually.
In the case, you did not configure Single Cable Mode, insert IP address of the CP box.
Press Next to finish device adding process.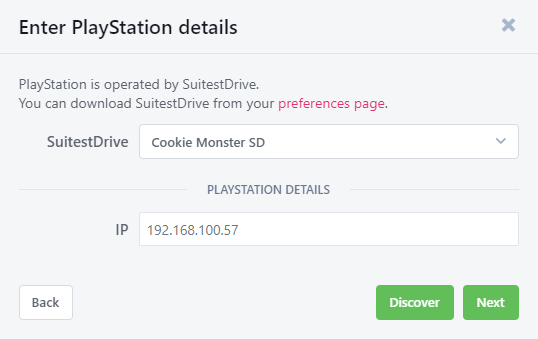 Now that you have your PlayStation configured, it's time to instrument your app and start testing.
Something went wrong?¶
Please check the PlayStation 5 troubleshooting section for guidance.